As the autumn gloom descends on the harbour at Gustavsberg, the Porcelain Museum will open a new exhibition shining a light on the work of Karin Björquist – one of the 20th century's leading Swedish designers and the only woman to have served as artistic director of the Gustavsberg porcelain works.
The exhibits range from stackable coffee cups for efficient canteen operations to the warm white bone china of the Nobel dinner service, as used by royalty and laureates at the Nobel Prize banquet. The exhibition charts the designer's creative process and the thinking behind the design, and examines how good design contributes to quality of life. The topics explored include the translation of handcrafted works into manufactured goods, design for wellbeing, and architectural ceramics. Come and learn how ideas take shape.
Nobel dinner service for gastronomic works of art
2021 marks the 30th anniversary of the Nobel dinner service, one of the most prestigious and most notable sets of tableware created by Björquist and produced by Gustavsberg. In 1991, Åke Livstedt, an art and cultural historian, was commissioned by the Nobel Foundation to redesign the Nobel Prize banquet to mark its 90th anniversary. His vision that the table setting would form a coherent whole along with the food, entertainment and decor resulted in a Nobel banquet adorned with new china, glassware, cutlery and table linen. The project was a combined effort intended to reinvigorate the applied arts in Sweden. How successful was it? The exhibition includes sketches and prototypes showing how the dinner service was developed.
Architectural ceramics
The exhibition focuses in particular on Björquist's commissions for the public realm, presenting examples of design in dialogue with architects and clients. In 1961, in partnership with the architect Kjell Abramson, Karin Björquist won first prize in a competition to design the new stations for the Stockholm subway extension. The platform walls of Mariatorget station, with their thousands of yellowish brown ceramic rods, were a monumental undertaking for Björquist and her team of highly skilled craftspeople. Other featured design commissions for public spaces include the Sturebadet swimming pool and the central bank building in Stockholm, and most of the Domus department stores across Sweden.
The extensive Gustavsberg collection has been managed by Nationalmuseum since 2000, following a donation by KF, the Swedish Cooperative Union. In addition to material from the Gustavsberg collection, the exhibition features pieces from Karin Björquist's private collection, courtesy of a generous benefactor, and unique items from Åke Livstedt's archives.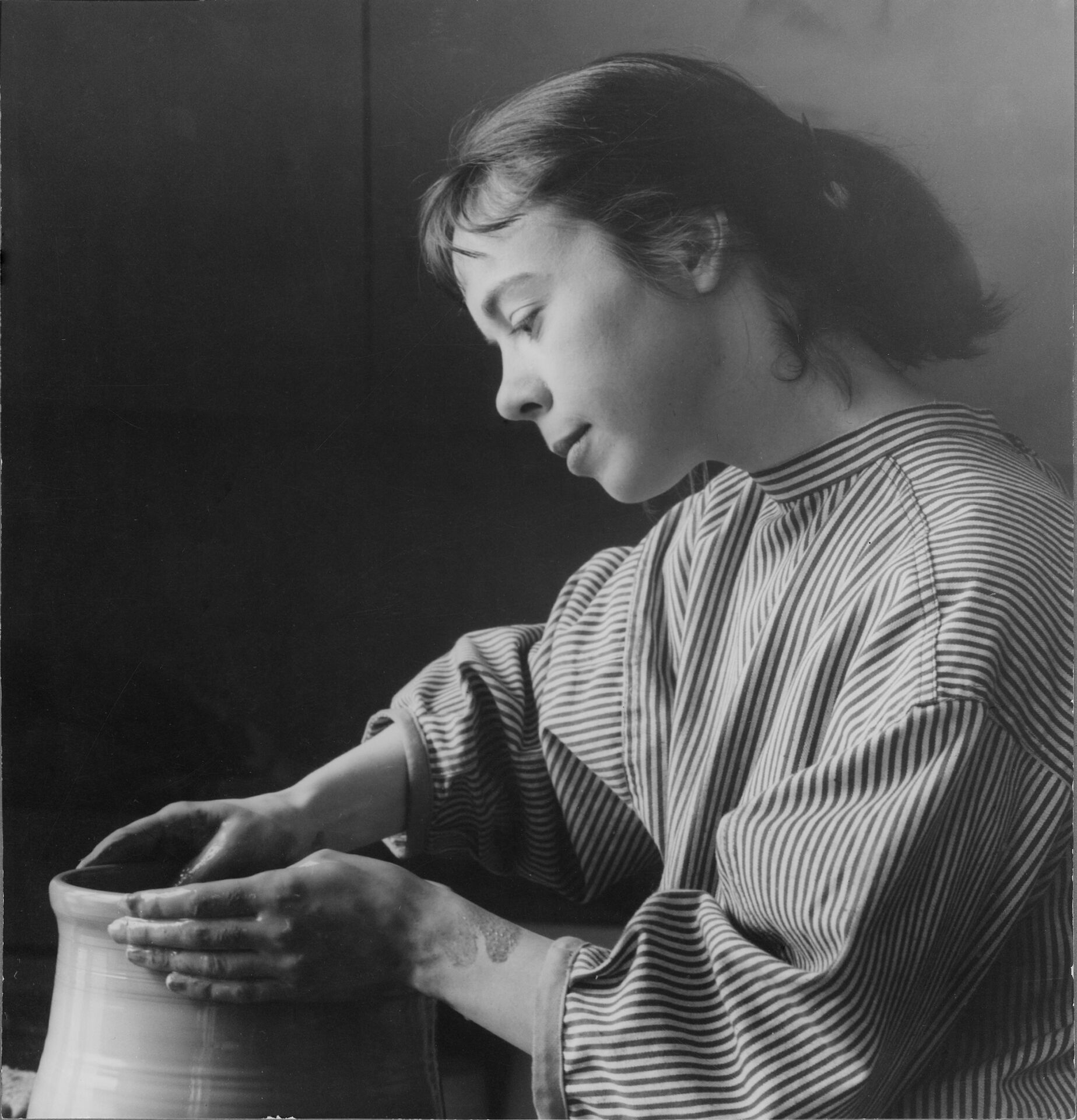 About Karin Björquist
Karin Björquist was born in Säffle, western Sweden, in 1927 and was raised by her parents along with her four siblings. As a child she planted herb gardens, and in her youth she developed a talent for drawing leaves, plants and other nature studies.
Her interest in art and design led her to start taking night classes in 1945 and then to continue her studies at Konstfack in Stockholm. Her focus shifted from visual arts and textiles to glass and ceramics. Unlike many of her fellow students, who dreamed of having their own studio and potter's wheel, Björquist's ambition was to work in the manufacturing industry.
She realised early on that her best chance of earning a living from ceramics was to take a job with a manufacturer. After a work placement at Gustavsberg, she was encouraged by the then artistic director, Wilhelm Kåge, to come back and apply for a permanent job, which she did in 1950. She later moved to the faience painting department under Stig Lindberg. In the early 1950s she was given her own studio to work in, and her first dinner service entered production in 1952.
Study visits to many parts of the world, including the United States, Mexico and Japan, provided Björquist with a great source of inspiration and reference in her work. She retained a lifelong interest in plants, which inspired her designs and table settings. Motivated by a desire to offer people more beauty in their daily lives, she refined the Gustavsberg tradition of functionality coupled with a feel for the materials and thoughtful design – whether the piece belongs in the hand or in a public space.
After almost 50 years at the porcelain works, Karin Björquist was appointed as Gustavsberg's first female artistic director.